Another fun cryptoweek is behind us. The boss of the world's biggest listed hedge fund firm made bitcoin noob mistakes again, while the boss of a major fund manager said people should have exposure to BTC. Goldman Sachs DeFi ETF became a source of confusion, while Ripple deepened its relationship with SBI, teasing Ripple's explosive growth in the larger Asia-Pacific region. The banking industry looks set to go to war with crypto as SWIFT launched a new service for fast and transparent payments, the BIS followed with a blueprint for its new "real-time national payment systems" linking platform, and more financial giants doubled down on crypto. An EU-backed fund teased a 'digital asset' investment drive, and PayPal teased a new "super app" that it says will feature "additional crypto capabilities." As Crypto.com estimated that the number of crypto users reached 221m, Coin Metrics said that TVL is "a deceptively complicated metric hiding under a benign name."
Meanwhile, US federal prosecutors are scrutinizing whether Tether execs committed bank fraud, and a bipartisan infrastructure bill that might raise USD 28bn from crypto investors was voted to advance, while Elizabeth Warren kept crypto FUD fighters busy again. Also, an attorney warned that the new US digital asset bill raises civil rights concerns. Crypto industry is increasingly turning to self-regulation as regulators' are closing around it, and PwC saw an "exponential" increase in inquiries about tax declarations from crypto holders in Spain. In South Korea, a lawmaker wants to throw struggling crypto exchanges a lifeline with an extension to a regulatory deadline, a leading think-tank found that crypto exchanges should be legally obliged to refund crypto investors, the FSC identified 14 "fake" bank accounts that are or have been used as fiat on/off ramps by domestic crypto exchanges, and the ruling party's crypto task force met with a number of major domestic crypto exchanges. Meanwhile, the IMF suggested that nations pick up the pace with their digital money development.
Oh, yeah! Vitalik Buterin will star as a dead kitty in Mila Kunis' NFT animated series to dish out advice to five living drugged-up kitties alongside Jane Fonda. Yes, you read that right. The pre-series NFTs sold out in 35 minutes.
And here are your jokes. Because you deserve it.
__________
Heeeey, CT! Feeling better?
__
It's all a matter of perspective.
__
What's everybody been talking about this week?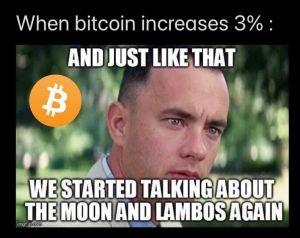 __
Busted!
__
Zeitgeist.
__
Long or short? (I mean the distance).
__
But let's learn from analysts in more detail about what happened last week.
__
Also, let's see a near-term price prediction.
__
What can we expect to see long-term?
__
'Like, totally dead. Waaay before the fire.'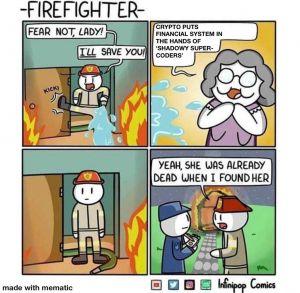 __
Mr Sadoshi has got something to say.
__
Very shadowy.
__
I'll give you 11%!
__
PoF
__
Point being either way: don't lose your keys.
__
Only a few will get this.
__
Anyone? – Sources
__
All in all, doing well.
__
True story.
__
And of course – don't worry, we didn't forget – your crypto documentary for this weekend: the DeFi edition.